Comparison: FanDuel NBA vs DraftKings NBA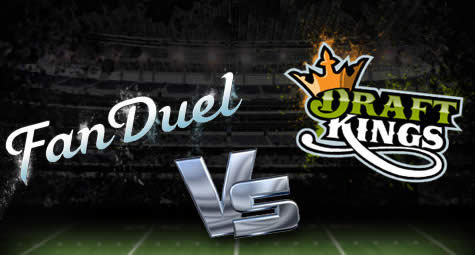 Have you been playing daily fantasy NBA for a while? If so, you might have given DraftKings and FanDuel, two of the most popular fantasy sites, a try in the past. These are two of the biggest and most popular fantasy sports sites, especially for NBA daily games. FanDuel actually puts out up to $200,000 in daily prizes alone. These two sites both have a lot of games, so it can be tough to pick between the two. In our FanDuel vs DraftKings review, we'll discuss a few of the key differences between the sites.
Comparing FanDuel NBA vs DraftKings NBA Games
Buy Ins and Offered Games
NBA games on both sites are fairly similar. However, FanDuel games have about a 25-dollar buy in while the 100,000 guaranteed prize pool on DraftKings provides a $27 buy in. FanDuel also offers a very large $10 entry game. DraftKings also has an equivalent. Consider, though, that FanDuel offers a $1 large GPP, between $40-80,000, while DraftKings only uses $1 games for very small tournaments. So this is one key difference between the sites.
Scoring Differences
This is one area the two sites differ fairly significantly. Scoring on DraftKings for NBA fantasy gives just one fantasy point to a real point. FanDuel, on the other hand, gives 3 points for three real points, and one point for every point scored. DraftKings gives 2 points for a steal, and it's the same on FanDuel. The sites have slightly different scoring rules for triple doubles and blocks/assists, so be sure to check out the chart that displays each point difference for turnovers, rebounds, and double-doubles as well. This can make a bit of difference in how you draft your team, so think about the double-double vs. triple-double scoring rules for each site as you put together your lineup.
Strategy Center – FanDuel Only
Daily fantasy sites usually have a few unique offerings to help players out, and the Strategy Center on FanDuel Is one such area. This is a source of information about daily games that will help you get an edge over your competition if you take advantage of it. DraftKings doesn't have the same offering, but there are several other sites that show daily lineups if you'd like to still use the site to play daily fantasy NBA.
Late Player Swap – DraftKings Only
DraftKings has a unique feature called the late player swap, which can help out a ton when it comes to NBA. This gives you the ability to remove anyone from the lineup who hasn't started playing, so you can replace him with other players who also haven't yet started. This can be a huge benefit to games where you might suddenly find yourself at a disadvantage.
Unique 50/50 Advantages on FanDuel
Additionally, FanDuel is a good choice for those who play a lot of 50/50s, as their games often limit entries in a specific way. This site offers a huge amount of 50/50 leagues, and there may be just a few users or there may be hundreds. But the way it works is that if you just get average scores on FanDuel, 50/50s will let you always profit with a good score, unlike head to head, where having a great score will often beat your good to average score. FanDuel also has a specific type of head-to-head matrix, where you can play 21 users at once, just as if you had played 21 different H2H games. This means you just need a reasonably decent score that beats half the players there, and choosing your lineup appropriately can guarantee you always win.
User Interface
One aspect of DraftKings that many users report is that DraftKings doesn't look as professional as FanDuel, and is a bit too cartoonish in some respects, while its usability makes up for it, as well as its gameplay. FanDuel, on the other hand, has a great interface and makes it easy to get started for new players since they have such a huge amount of users. But ultimately, DraftKings wins as far as work-ability and gameplay go. FanDuel's sign-up is easier, but DraftKings provides bold and unique icons, while FanDuel's icons are all the same flag/symbol that makes them hard to tell apart.
Conclusion
Ultimately, each site has unique pros and cons that make it better depending on what kind of games you plan to play (50/50, H2H) and how experienced you are. Hopefully, our FanDuel vs DraftKings review has explained some of the main features of each. In the end, playing NBA fantasy games on both sites might be a good way to test them out and determine which one you like best. If you're looking for clean gameplay and good user design, try DraftKings, while if you want a big player base and lots of contests, try FanDuel.