How to Get Started Playing Daily Fantasy Basketball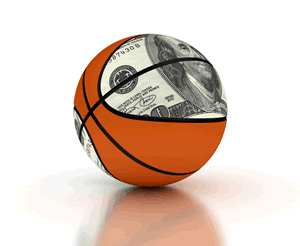 Getting started with playing daily fantasy basketball is quite simple. All you need to do is hop into daily fantasy sports leagues with a site such as FanDuel, or you can also go for season long game setups. For daily fantasy basketball, the winners get paid immediately after the night's games are over for NBA drafts. Then a new season starts the next day. You can select anyone you want on your team and there's no commitment or fee to continue playing, so you can drop in or out as you would like.
How to Play Daily Fantasy Basketball
Daily fantasy basketball is easy to play. You essentially draft a team based on real life players, use what is called a salary cap, then watch the results to see how wins. Of course there is a statistical factor to this, but fantasy basketball is for anyone regardless of skill level. You'll need to pay a basic entry fee starting anywhere from $1 and going upwards of $5000 for some leagues.
How Scoring Works in Daily Fantasy Basketball
If you've thought about starting in with a fantasy basketball team but aren't sure where to start, the first consideration is the best way to score players for each game. There are essentially three areas within scoring: the format of the league, the allowance of players, and which league you are playing with, which determines what scoring system they use.
To determine fantasy basketball scoring based on league format, you might have to look at categories to see which players are eligible for each one. As an example, the league may only use assists, steals, and turnovers as qualifying factors, and you'll need to determine fi your players are categorized within these areas. The stats for each of these areas is compared against other games and player averages to figure out results that are good or bad. Usually, with fantasy sites like DraftKings and FanDuel, the league rules and scoring formats are explained in extensive detail.
Drafting Rules for Daily Fantasy Basketball Leagues
To start a draft, you simply need to register on your chosen site and then you'll be given a salary to choose players with. Then, you select which ones look most promising for your needs. For some leagues, the basic fifteen player for each team setup will be used, while some use twelve or fewer players. If you have a team that is using the standard 15 players, be sure to watch each player across each of the categories your chosen leagues is scoring on. As an example, if the league just allows a twelve-player roster and scores on 4 different categories, 4 players will participate in every game. The leftover eight players are going to be included in the pool which you can use to rotate players either daily or weekly.
Finally, and most commonly, many leagues used scoring types to determine who takes home the cash. In win/loss leagues, the players are scored based on wins and losses at the category level, and these are then added up at the season's end. The points system is another avenue: some categories score more points than others, but they are all tallied up at the end of the season.
Tips and Hints on How to Win Daily Fantasy Basketball
Some tips for fantasy NBA include chasing the minutes and keeping track of information about players. One important lesson to take from expert fantasy basketball players is that you only have five people from each team on the court at one time, and fantasy points are constantly being made for someone on each possession. This could be through scored baskets, assists, blocks rebounds, or steals. So you need to be sure to draft team members who will be playing for most of your games. As long as you have eight or nine healthy team members on your draft, it's a safe bet that starters in each game will see a ton of minutes. This will help you score more points on sites like FanDuel.
Keep Abreast of New Information on Players
Additionally, it's vital to know that information is king in fantasy basketball. Constantly checking the news on Twitter or through your favorite fantasy basketball info site is key. Having a refined information gathering setup will give you a leg up on the competition so you can draft better lineups than those who didn't' spend the time doing research.
Sign Up and Get Started Right Away
These are some of the key factors to know about daily fantasy basketball. Like many fantasy sports, you just need to do a little research, pick a site to play on, then sign up and setup your payment information. Most sites will accept PayPal and credit cards, so getting paid and making deposits is a cinch. Remember to do plenty of research and know your scoring rules inside and out for the site you pick, and you'll see winnings piling up in no time!