Fantasy Sports for Beginners – Book Review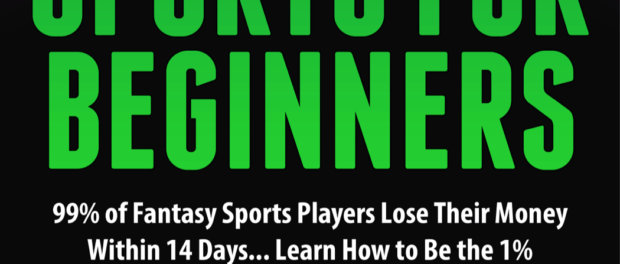 Many people rush into fantasy sports believing it is easy to make money. What they do not realize is that there is a world of difference between fantasy sports and sports betting. This is because the same principles that work when you bet on soccer, basketball or tennis may not work for you in this business. Now, here is some good news for you. You can get authentic information and excellent tips from a new book authored by FantasySports411.com contributor, Gary Henderson. The title of this book is Fantasy Sports for Beginners and it is truly a gem.
Fantasy Sports for Beginners
This book is a simple and extremely helpful guide for beginners. It is written in an easy-to-understand style and the information is clearly expressed. The author also breaks down information into different categories. You can simply refer to the relevant sections and find out all you want to know.
What You Will Learn
Fantasy Sports for Beginners makes it clear that 99% of players lose money playing fantasy sports games. Only 1% of the players make money but you can join this illustrious company if you pay attention to the author of this great little book. Gary Henderson states why most people lose money and he points out the pitfalls you ought to avoid. He also makes excellent recommendations in this book so there is a lot to learn here. In addition, the author has skin in the game. He is an expert at this game and he has made money from it. This means that he is just the right person to dish out advice on how to win at fantasy sports.
Planning and Drafting Players
In this book, Gary Henderson writes from the perspective of an expert. He makes it clear that in fantasy football, the draft is the most important part of the season. Once you get the right players in your team, you will do well during the season. This is because the players you have on your team increase the odds of winning and earning money.
Joining the Right League
For beginners, joining the right league is vital to success in fantasy sports. There are private leagues and public leagues and the author recommends that it is in your interest to join public leagues. The author also explain how to choose the right leagues, how to earn money and how to maximize your profits.
Competition and Improvement
Now, this is where Gary Henderson proves he is a master of the game. You cannot choose your team and go to sleep. You need to keep improving your team so that you can cope with and outdo the competition. In this context, Henderson explains how to drop players and how to add new ones. The author also point out the difference between daily and season long games.
Final Word
At just just 64 pages, this book is short and easy-to-digest. The good news is that this "small book" is packed with valuable information. Read this book and you will join the special category of people that make good money.